Minister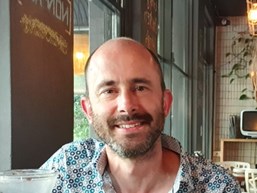 Rev Andrew Cunningham is the minister of Orange Uniting Church.
Andrew holds a Bachelor and Masters of Theology from the Queens University of Belfast. Andrew has ministered in Churches in the Republic of Ireland, Northern Ireland, The Caribbean and Australia.
Growing up in a united Anglican, Presbyterian and Methodist Church, Andrew is committed to Bible centred teaching and united church initiatives. Andrew has a strong background in Youth and Children's Ministries having served with the Youth Team on Mission and as Chaplain to a private secondary school in Ireland.
His service to mission in Ireland and the Caribbean demonstrates his transcultural, missional approach to ministry and desire for God's kingdom here on earth. Andrew is passionate about churches being ready and able to share the love of God and join God in His mission for their locality. Through Andrew's preaching and leadership, he encourages churches and people to examine themselves and their work and encourages them on a journey of listening to God and seeking His vision for their lives, Church and community.
Andrew is married with two children. The family moved to Orange in 2014 when Andrew was appointed as minister of Orange Uniting Church.